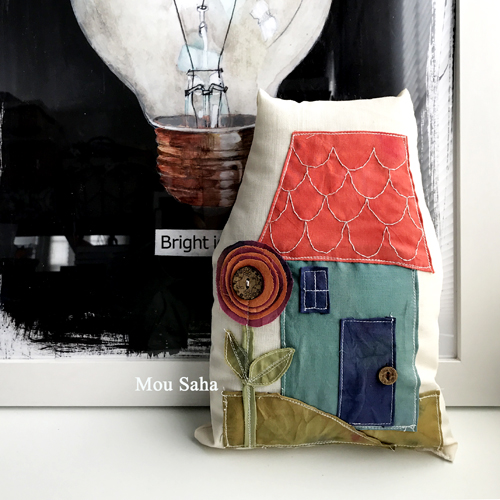 Tried something new-to-me here… I appliquéd and sewed this house shaped pillow from scratch!
I have had a sewing machine for some time but I have only always used it to stitch paper to paper. Sewing fabric intimidates me. I'm not exactly sure, why! My mom and her mom could both sew well and were both self-taught. I still remember that one time on our way to my swim club, my mom stopped at a fabric store and bought a piece of very pretty fabric remnant and a skein of crochet thread. She had a crochet hook in her purse. During the three hours that I trained, she sat there and crocheted a beautiful lace pattern. After we finished dinner that night, mom pulled out her sewing machine. In the next hour, she brought her crochet piece and the remnant fabric together to create a unique dress for me! Me, I was proud to wear that dress and so proud of my mom. But I never dared to venture into that territory myself. Isn't it strange how we hem ourselves in into believing we can't do some things?
The idea for this pillow began in my head at Creativation 2017 in Phoenix in January quite by chance. I was doing demos at the Faber-Castell booth and Tea Stain Dyes was one of the products I was working with. I was showing and telling visitors how to prepare the dye baths and dipping fabrics in them. A lady walked up to me and asked me if I would like to make a pillow. I hesitated. She gave me a small bag of fiber-fill. I wasn't sure. At the end of the show, I collected a few of the dry dyed demo samples that are usually discarded, and brought them home with me. The post-show work kept me busy for a month. Then preparing for the next assignment took up my time. Finally, I did a little spring cleaning and reorganization in my studio last weekend and recovered the the six little dyed cotton squares I had brought home.
Even though I never sew, I have a small fabric collection of my own. I sometimes use bits and pieces in my art journals. I dug through my bin and found some natural unbleached cotton fabric. After some experiments with the sewing machine and needle and thread, I had sewn myself a tiny house and a house-shaped pillow case. I cut open the bag of fiber-fill from the show and began stuffing. Before long, I had made a little pillow.
Now, my pillow has a bazillion flaws. But here it is, in the spirit of keeping it real and trying new things!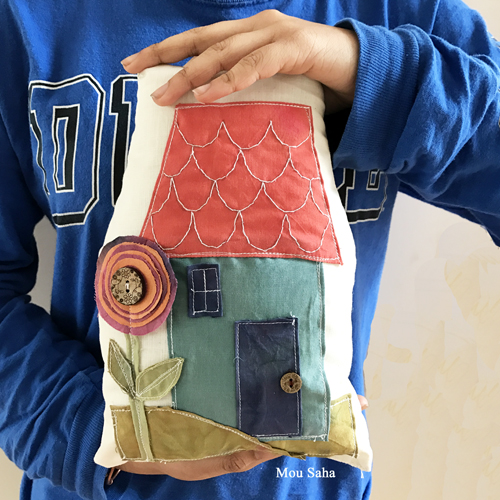 I still have some fiber-fill left. I might have another go at making a small pillow! Who knows, I might even end up with a couch full of 'em… only time will tell.
Save
Save
Save