Helllllooooo!!!
We are back from our spring break cruise to the Bahamas! Here's the story of our trip in pictures.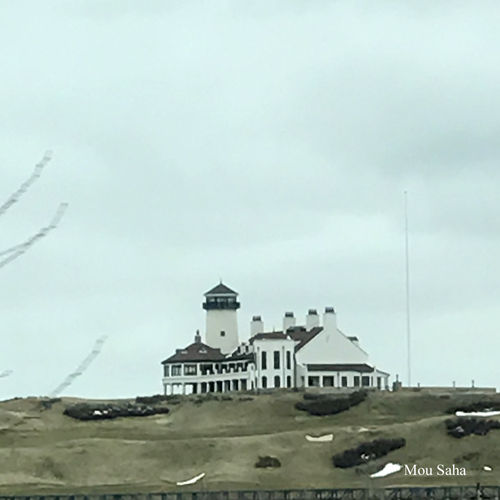 Leaving the cold and rainy weather behind was not hard. As we drove to Cape Liberty to our cruise terminal, I took this photo of the Harbor Pointe light house. Blurry as it was on a cloudy, rainy day, it was still beautiful!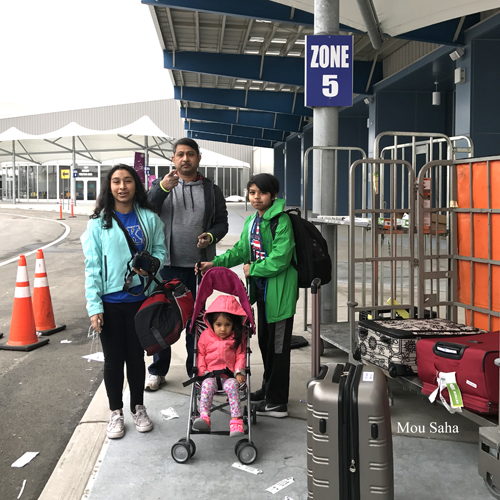 Car parked. Luggage out. Family shot.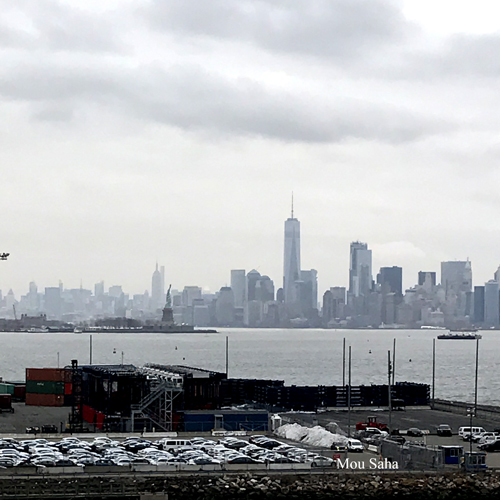 First view from the cabin on board of the Anthem. Bon Voyage!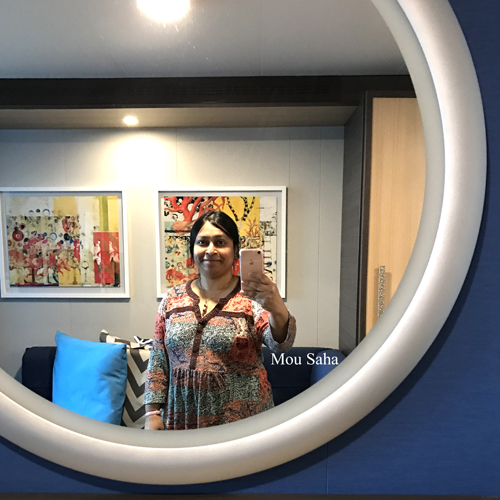 Since I take all the photos, I'm never in them. So, here's one mirror selfie!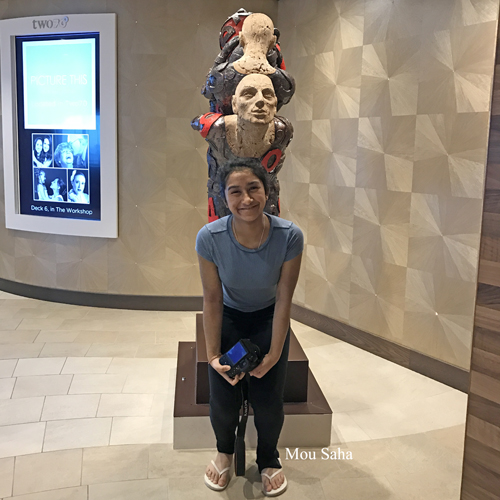 Day 1 was sea day. Nini and I took our cameras and explored the ship. Found several pieces of amazing art all around.
The Pulse Spiral by Rafael Lozano Hemmer, is a grand chandelier with 200 light bulbs that pulses rhythmically to heart beats. We added our own heart beats to this mix by placing our hands on the metal plate.
Also loved Andrew Myers' Topographical Facial Series 1-4 and Kerry Miller's Flowering Plants of Great Britain.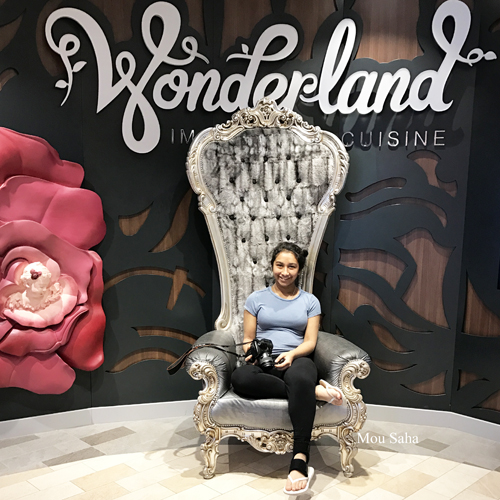 The first few times we passed by this chair, we found an older gentleman fast asleep on it. Much to my daughter's frustration, we came back to it one more time and took this photo.
Because of inclement weather, our itinerary got an overhaul. Day 2 was no longer to be a day in Cape Canaveral but another sea day.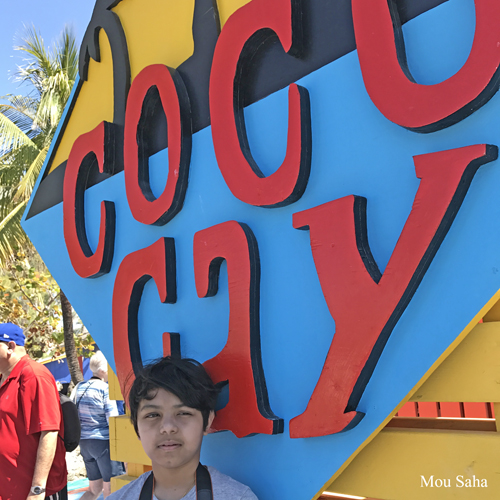 We made it to Coco Cay on day 3.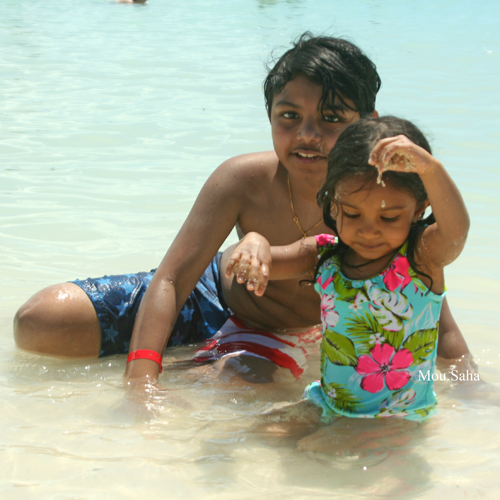 EVERYONE LOVED THE SAND, SURF AND SUN!!!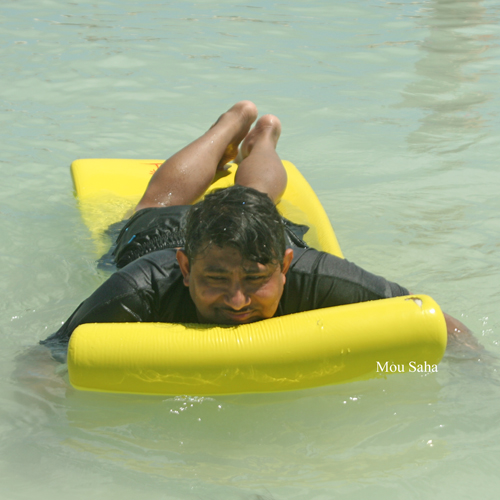 Ashis floated around in a surf mat for hours.
After that the boys went back to the ship with the baby and I stayed back on the island with Nini for shopping. Some cool local handicrafts and musical instruments were bought.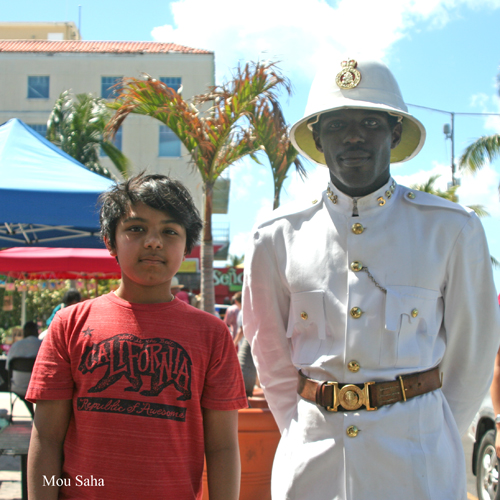 Day 4, we were at Nassau. We spent the whole day in the island. Ashis took Nini for snorkeling with the shore excursions.
Around noon, I took Ayush and Jia for our glass bottom boat excursion to the coral reef. Ashis and Nini made it back from their snorkeling trip just in time to hop on the boat. When we came back, Ashis took baby Jia back to the ship while Ayush and Nini came shopping with me.
This gentleman is a young police officer and was happy to pose for a picture with Ayush!
Oh the colors of this Bahamian island!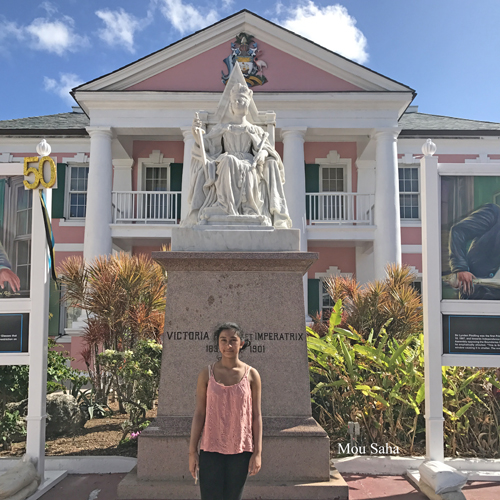 After a while, Ayush was done walking. So we took him back to the ship. Changed. And came back out again for more photos and shopping!!! Pretty jewelries were bought for this young lady!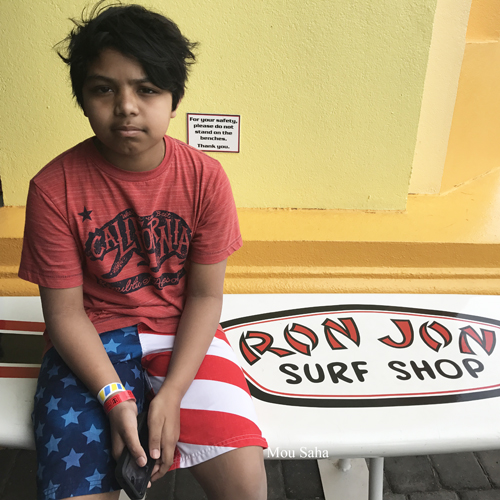 The kids were the most excited to reach Port Canaveral on Day 5! It was strangely emotional to go back to Florida again, but this time as a tourist.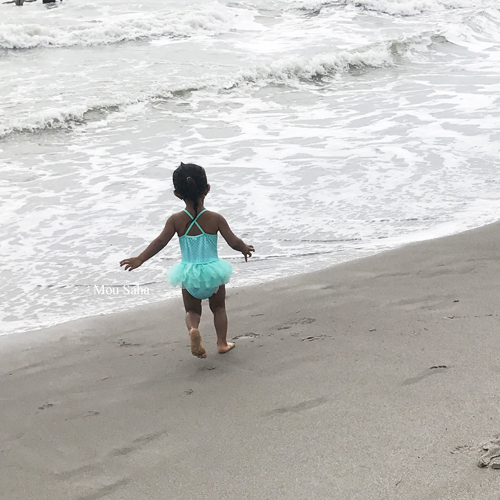 Jia embraced the ocean with open arms! Looks like she too is a sea girl at heart.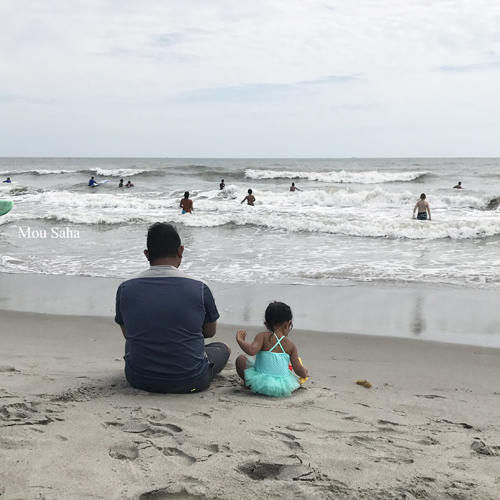 One word: BLISS.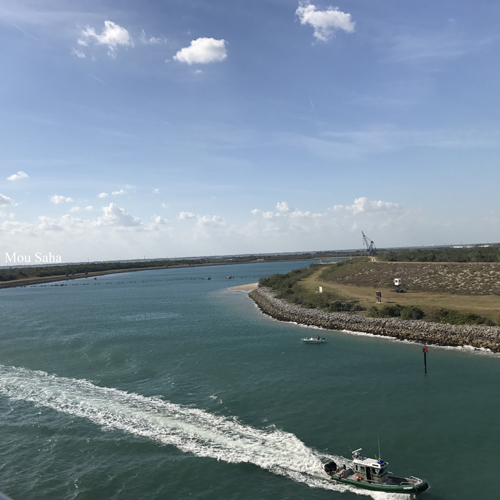 I came to Tampa, Florida back in December 1999, a week after I got married. I had left my home and family back in India. A new phase of my life began unfolding in the gulf coast. We built our first home from ground up. We had our three children. We got our first puppy, Brave. Then sixteen and a half years later, we had to move. To New Jersey. Ayush and Nini were beyond upset. Jia was too young to know. I steeled myself and left my neighbors and friends behind who had become family to us. I promise you, I did not cry as we drove off 10748 Plantation Bay Drive at 3.20 pm on July 17th, 2015. But as the ship sailed away from Cape Canaveral, it hit me that I had left home once again. My Jia will not go to NASA for school field trips. Or pet manatees in ocean reserves. Or have an annual pass to Disney and Sea World. Or smell like chlorine swimming in the home pool. Yes, she will do other things in New Jersey. But that's a part of our lives she will only know from our stories.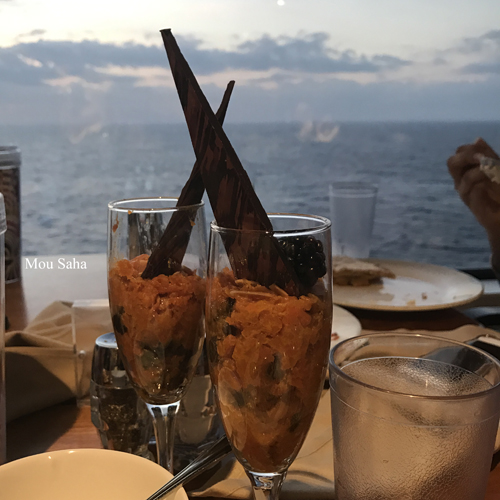 An excess of food was consumed EVERY SINGLE DAY. Desserts were had even at breakfast. Can't tell if we liked the taste or the look more!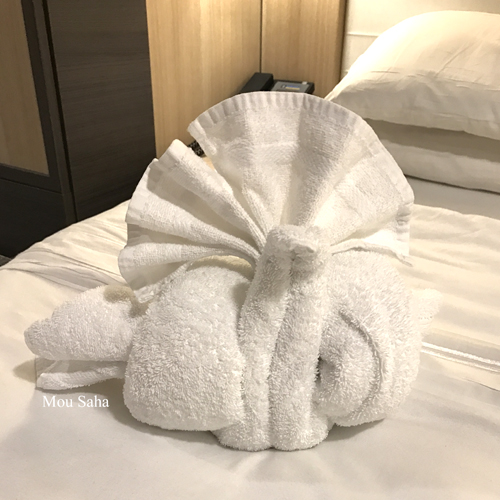 A large debate was had over whether this towel beauty was a peacock or a turkey.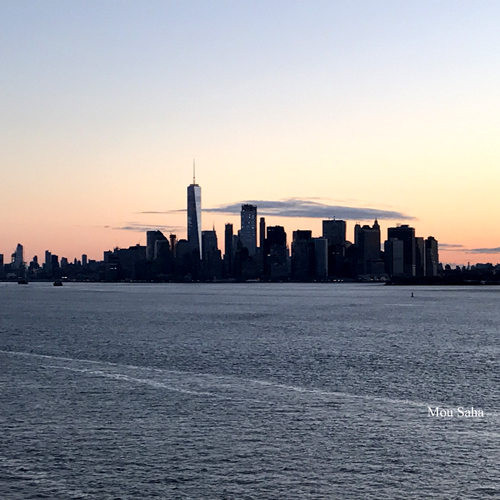 At 6.30 am on Sunday, 4/2/17 the Anthem of the Seas docked at Cape Liberty.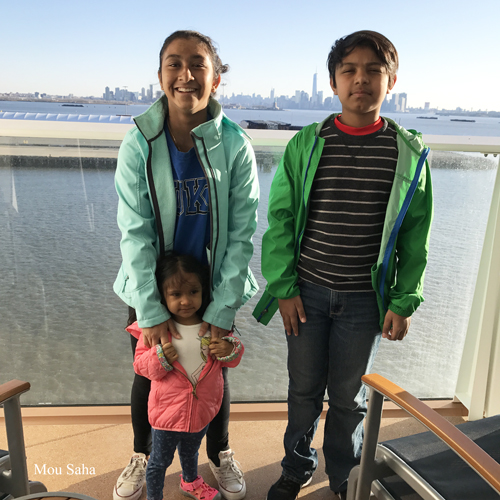 One last photo was taken on the cabin balcony.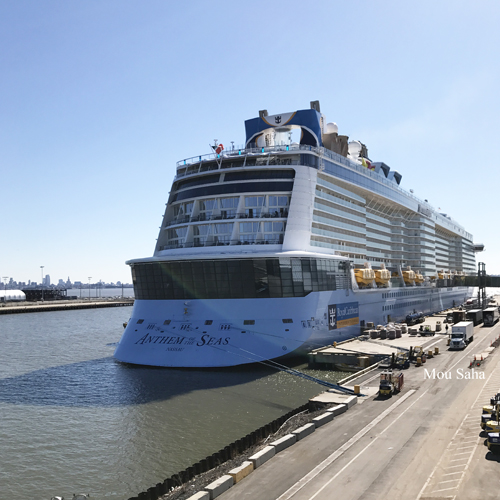 Luggage was hauled. Customs cleared. Last photo of the Anthem was taken from the parking garage.
And then, we drove back to routine. From luxury to comfort. Exhausted. Somewhat sunburnt. Happy. Full of beautiful memories and stories to tell.
Save
Save
Save